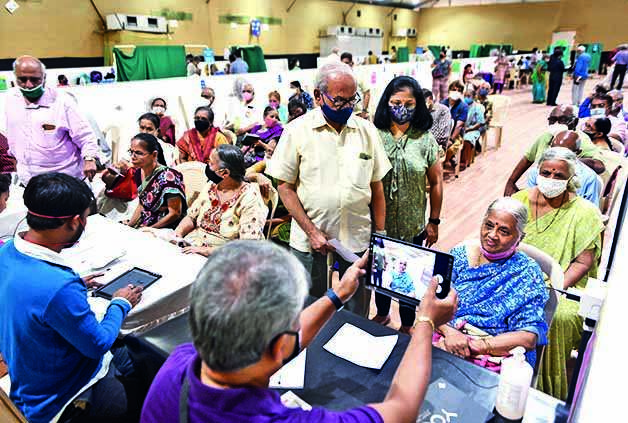 Pune: Public health experts have cited emerging evidence and said India could consider delaying the second dose of the Covid vaccine to improve immunogenicity. Currently, the follow-up shot is given 28 days after the first one. TOI spoke to several experts who said suggested extending that timeline. Dr
Gagandeep Kang
, a member of the Strategic Advisory Group of Experts (SAGE), which is advising the WHO, said the decision to delay was not just about supply constraints, but improved efficacy too.
A recently published
Lancet study
has said the
Oxford-AstraZeneca
vaccine —made in India by
Serum Institute
as
Covishield
—showed greater efficacy when its second dose was administered after a gap of 12 weeks, instead of four. The study was based on results from over 17,000 trial participants. The researchers found that efficacy of the shot had risen from an average of 55.1% (after two doses were given fewer than six weeks apart) to 81.3% when the interval was at least 12 weeks. "Results from the clinical trials with the Oxford/Astrazeneca vaccine show a longer interval between doses improves immune response and improves the efficacy of the shot. Based on the data we now have for this vaccine, it makes sense to have an interval of at least 8-12 weeks between doses," Kang said."I strongly urge the Indian government committee to reconsider the time-frame for the second dose," said National Covid-19 task force member, Dr Giridhara Rao.
Dr Vijay Natrajan, CEO of Symbiosis University Hospital and Research Centre, said The Lancet study suggests a three-month interval between doses. "It will boost immunity, but in the Indian context, the risk of contracting Covid in the 90 days between doses remains high. That's why the government picked 28 days, or four weeks."
Dr Lalit Kant, former head of ICMR's epidemiology and communicable diseases division said models have shown a delayed second dose offers better protection, but real-world conditions can differ. "Delayed doses can protect a higher number of people quickly when supplies are limited. But in India, we don't seem to have a shortage of vaccines. So the benefit is in terms of improving the level of protection," he said.
He said a closer look at data in the Lancet study shows the sample size was too small to draw a meaningful conclusion. "Therefore, studies with adequate sample sizes are needed before we can think of changing India's vaccination schedule for Covishield."