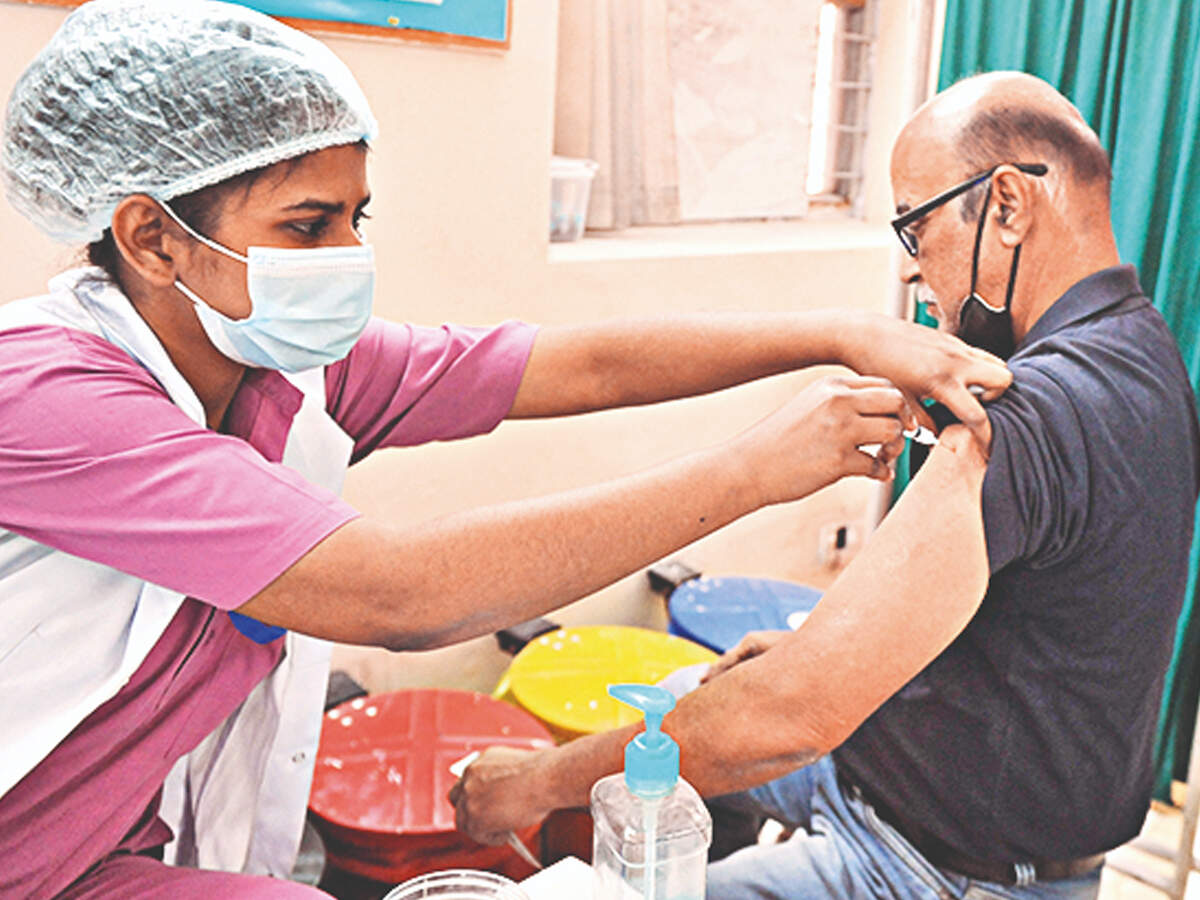 NEW
DELHI
: Over 7.2 lakh individuals, including more than 1.6 lakh senior citizens, have been vaccinated in Delhi so far. Every day, around 30,000 people are being vaccinated. It indicates an encouraging demand for vaccination, especially after the second phase of the vaccination was rolled out from March 1.
Highest single-day turnout for vaccination was reported in Delhi on Saturday with 39,853 people turning out to receive the shot across 483 vaccination centres. A total of 29,283 people got the first dose, including 20,275 senior citizens and 3,685 belonging to the 45-59 age group, till 6pm. Also, 10,470 healthcare workers and frontline workers got the second dose. Only one adverse event was reported.
All the districts are mobilising workers to motivate eligible people to get the shots.
The vaccination drive was launched for healthcare workers by Prime Minister Narendra Modi on January 16 across the country, including Delhi, where it started from 86 vaccination centres. The demand for the Covid vaccine was very slow initially as apprehensions about its efficacy and safety were high. But soon, the demand increased as the vaccinated healthcare workers did not show any adverse signs. The drive was later opened for frontline workers too.
According to a source, 1.7 lakh healthcare workers, 2.6 lakh frontline workers, 1.6 lakh senior citizens, 24,000 people in the 45-59 age group with comorbid conditions have received the vaccine so far in Delhi. Over 1 lakh people have taken the second dose.
"The vaccination for senior citizens and 45-59 age group people was hampered in the first few days due to glitches. The glitches were ironed out soon and the vaccination process has now become smooth. It has led to an increase in the total turnout," said an official.
President Ram Nath Kovind, PM Narendra Modi, chief minister Arvind Kejriwal and other influential figures who turned out to get the Covid shots, left thousands inspired. "After the CM took the shot at our hospital, we witnessed an increase in the turnout for vaccination," said Dr Suresh Kumar, medical director of Lok Nayak Hospital.
As part of a special drive, the North West district has formed 13 teams of 'Co-Win sahayaks' who are visiting homes, parks, etc, to register people eligible for vaccine and encourage them to get the Covid shots. Besides registration, these teams are also creating awareness about Covid-19 and encouraging people to follow Covid-appropriate behaviour like wearing masks and following social distancing.
District magistrate (West) Neha Bansal said the district was getting senior citizens staying in old age homes vaccinated by arranging transport and ensuring their registration. Eight such old age homes/ashrams have been identified in the district and senior citizens' clubs and recreation centres are also being contacted for full support. The authorities concerned will contact all old age homes in the district and get them vaccinated.
Arun Kumar Mishra, district magistrate (East), said that "besides Covid-preventive measures, the focus is also on vaccination because it protects the vaccinated people from the coronavirus."