[ad_1]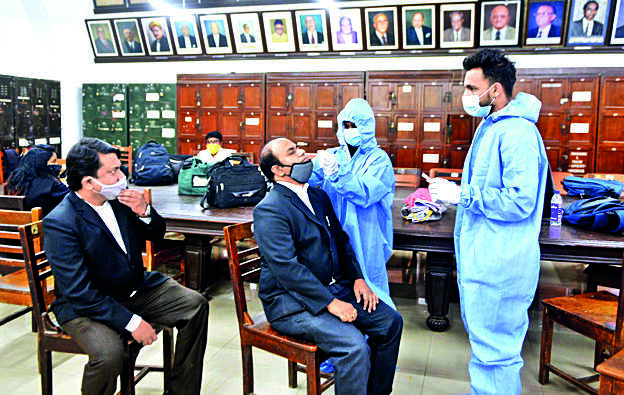 Mumbai
: The emergence of a
double mutant variant
in the SARS-CoV-2 virus is "not abnormal" and is perhaps an indication of the "pressure" from human interventions, said experts a day after the
Union health ministry
announced the finding.
In the largest whole genome sequencing carried out so far in the country, the SARS-CoV-2 Consortium on Genomics (INSACOG)—a group of 10 national laboratories under India's health ministry—checked 10,787 samples from across the country and found 771 "variants of concerns" including the double mutant.
The double mutant was found in 223 samples, including 206 from Maharashtra. "It has mutations in two positions as compared to other variants in circulation," said Dr Rakesh Kumar Mishra, director of Hyderabad-based Centre for Cellular and Molecular Biology that is one of the 10 laboratories involved.
The double mutations—namely E484Q and L452R—were known as separate entities.
While the E484Q mutation was found in Maharashtra and Telangana, the L452R is a relatively new find in India and originally from California, US.
Dr Nerges Mistry from the Foundation for Medical Research in Mumbai said double mutations are not uncommon among microorganisms.
"Mutations are common among viruses. When a virus is under pressure from use of medications and vaccines and development of herd immunity, it would mutate even more," she said. Double mutation is one such response.
The findings come even as Maharashtra is in the throes of the second wave of the Covid-19 pandemic.
However, government experts are sure the double mutant variant is not responsible for the second wave.
"About 80% of the 1,600 samples tested from Maharashtra didn't have variants of concerns. We hence cannot say the mutants are responsible for the ongoing second wave there," said Dr Mishra.
These samples were taken from clusters and randomly collected swabs. "However, more tests will be done on a larger scale in the coming week to get details," added Dr Mishra.
The main concern right now is ability of these mutants to "escape" antibodies released by vaccines.
"We need a vaccine that will take care of such responses," said a senior doctor from a BMC hospital. "The point is whether vaccine production can keep pace with virus mutations," said Dr Mistry. In case of the influenza or flu, the vaccine has kept abreast of mutations; the shot is reworked every year on the basis of year-long surveillance to detect the most common flu strains in circulation across the globe.
But in case of the SARS-CoV-2 virus that causes Covid-19, there is limited information so far. "We don't know how it behaves with weather change or what drives it. That information is still a work in progress."


[ad_2]

Source link