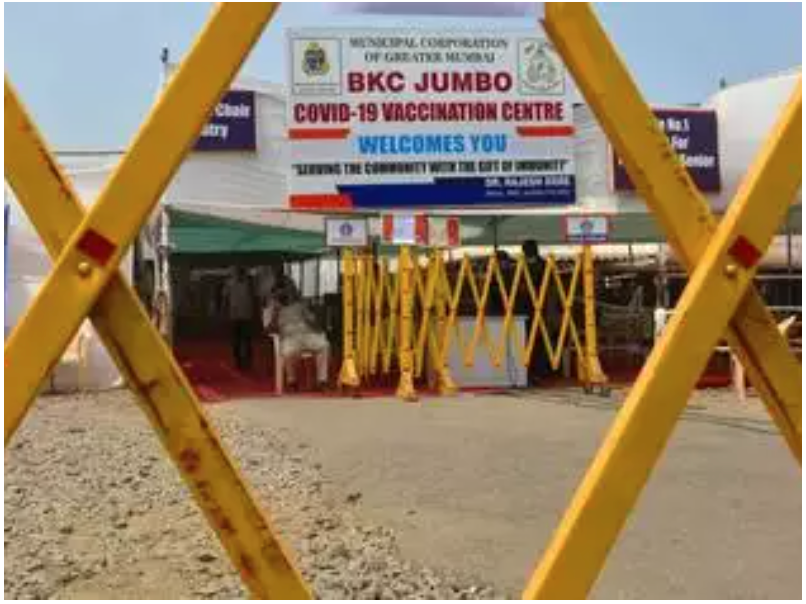 MUMBAI
:
Covid vaccination
in the city dropped by 40% on Friday as 86 of the 120 inoculation centres closed due to unavailability of doses. Thousands had to be turned away and centres that operated saw winding queues.
BMC chief I S Chahal said all 71 private centres will be shut on April 10, 11 and 12. Public centres will run—normally on Sunday, but reduced hours on Saturday. "Citizens can travel to vaccination centres during the lockdown," he clarified.
The state too witnessed a dip of over a lakh in vaccination from the daily average of 4.27 lakh.
The state got 4.59 lakh vaccine doses on Friday, which could run for 2-3 days at most, said officials. The city got around 99,000 doses, which civic officials said would mainly be diverted to the public vaccination centres.
The vaccine shortage meant Mumbai could vaccinate only 33,551 on Friday, down from its daily average of 53,000 vaccinations since April 1 (see box). The city had started Friday's drive with less than enough doses, and the crisis began to unfold by noon as some of the major public vaccination facilities started running out.
The largest centre at the BKC jumbo facility shut its gates after it exhausted the last of its 160 doses around 11.30am. Since news of vaccine shortage was relayed a couple of days ago, crowds had been rushing to centre in panic. People continued to pour in despite notices about the stockout, and the cops had to be called in. By afternoon, the access road to the centre was barricaded. At the Nesco jumbo facility in Goregaon, the main gates had to be shut around 2 pm. Minor scuffles broke out near the gate as people still wanted to enter the premises.
Similar scenes played out at VN Desai Hospital in Santacruz, where less than 300 could be vaccinated. The hospital's cramped campus was filled with hundreds more, who had to leave disappointed. SevenHills Hospital in Marol, which vaccinates up to 3,500 in a day, had put up banners announcing the stockout.
State officials said despite the crunch, Maharashtra continued to be ahead of other states having administered over 97 lakh doses on Friday. Before the start of the day's drive, Maharashtra had around 10 lakh doses of vaccine.
Additional municipal commissioner Suresh Kakani said people needn't worry as they will be vaccinated once stocks arrive. "There is no need to panic as doses will come shortly. People waiting for a second dose of Covishield can anyway take it between 6-8 weeks," he said. Private vaccination centres have been shut for the weekend, but will resume normal operations next week as more vaccines arrive.
Four workers from the BMC's solid waste management who came to the BKC centre for their second dose said they were surprised to see no vaccines for frontliners. Laxman Bhide had brought his 80-year-old mother hoping to get her vaccinated. "I should have got her earlier. Who knew the stocks would run out?" said the Kurla resident.
Reports of stockouts came from MMR too. After Vasai-Virar, Mira Bhayander officials said till Friday, they have almost exhausted their stock of 1.02 lakh vaccines.
Vaccination at three private hospitals in Kalyan-Dombivli was closed due to the shortage. The remaining 19 centres have doses for only the next two days. The three centres which are closed include AIMS hospital (Dombivli), Mamta Hospital (Dombivli) and Siddhivinayak hospital (Kalyan).
(Inputs by Sandhya Nair & Pradeep Gupta)