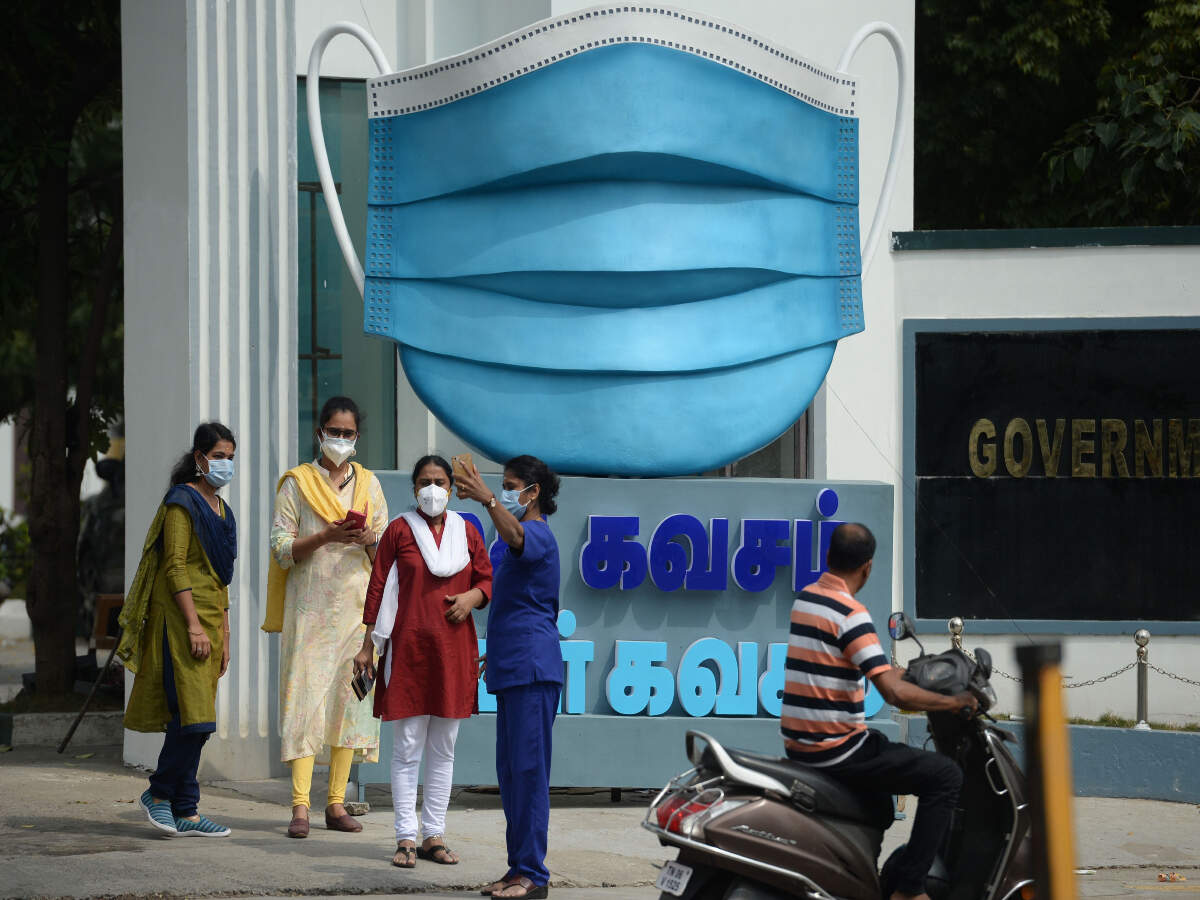 Chennai
: After 225 days, fresh
Covid-19 cases in Tamil Nadu
crossed the 6,000-mark on Sunday, with the state recording 6,618 new cases on a single day. The state last crossed the figure on August 30, 2020. Chennai continued to report the maximum number of new cases (2,124) and deaths (12), with 15,761 cases currently active in the district.
With 22 people succumbing to the infection in 24 hours, the state's death toll increased to 12,909 — second highest in the country after Maharashtra (57,638). Twenty of the 22 victims had comorbidities such as diabetes or hypertension. Tamil Nadu had targeted to vaccinate 1.3 crore people since inception of the drive on January 16, but as on Sunday, only 37,80,070 have been vaccinated across 4,328 centres. On Sunday, 47,205 people got their shots. At present, there are 41,955 Covid-19 patients undergoing treatment across the state.

Cases on rise in city's neighbouring districts
With 2,314 people walking out of home quarantine or being discharged from hospitals in one day, TN's recovery rate has dropped from 98% in March 1, to 97.66% on April 1 and now to 94.5% on Sunday.
At present, there are 41,955 Covid-19 patients undergoing treatment across the state, and beds in government hospitals are getting occupied fast. Of the 4,300-odd beds in five major government hospitals in Chennai including the Rajiv Gandhi GH and Omandurar hospital, around 2,300 were occupied by Covid-19 patients, according to official data.
Though Marina was out of bounds for visitors in the city, Royapuram fish market was overcrowded. Welfare camps set up by political parties in the city were no exceptions, either. Cases were on the rise in Chennai's neighbouring districts of Chengalpattu (631), Kancheepuram (206) and Thiruvallur (296).
Following Chennai and Chengalpattu, Coimbatore (617 ) stood third in the state's daily infection chart. As a result, checks have been intensified at the interstate border with Kerala (Walayar) in the district. In other road borders, railway stations, ports and airports too, covid teams were deployed to collect samples of suspected cases. So far, 38.8 lakh people were screened before entry into the state and 7,446 had tested positive. In Madurai (173) and Trichy (154), the cases have grown by an average of at least 0.5% over the past two weeks. In central and northern Tamil Nadu, too, the situation has turned worse. At least 16 districts have reported 100 cases or more.