[ad_1]

CHENNAI: Rules and government assurances notwithstanding, black market sale of key Covid-19 drug
Remdesivir
is flourishing in Chennai with many
pharma
vendors charging up to Rs14,000 per 100-mg vial, shows a TOI investigation.
Though Tamil Nadu government has assured to help them in procuring the drug, many private hospitals have washed their hands, leaving several Covid-19 patients in their care in the lurch.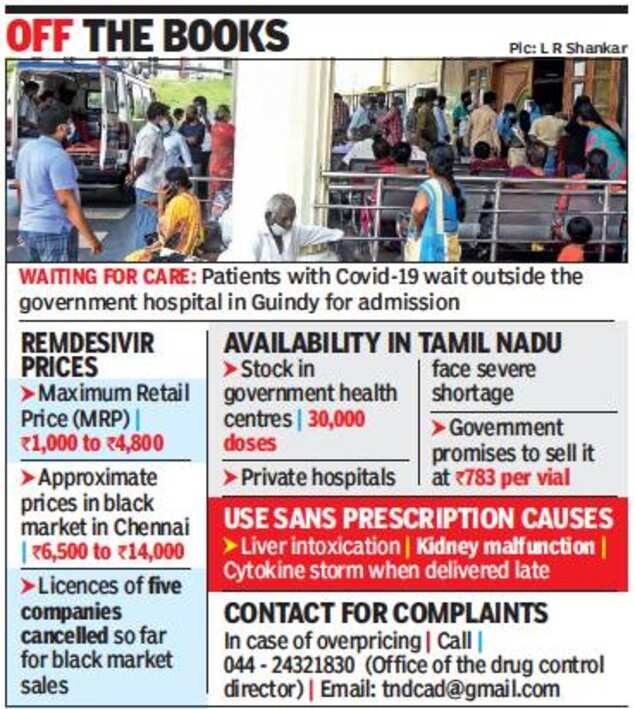 "We bought six vials of Remdesivir for ₹14,000 each in Chennai," said Puroshothaman*, an attendant of a Covid patient from Mylapore.
The drug was delivered within two days from the time of order in the black market.
While the market price of Remdesivir ranges from ₹900 to ₹4,800 per vial, people are paying three to four times the maximum retail price (MRP) in the black market.
When TOI posed as a potential customer with six different pharma vendors, four of them said they were running out of stock. But two agreed to sell the drug for ₹6,500 per vial.
Three firms in the list refused to share the price details and assured the decoy customer that products could be purchased from them on Saturday after submitting original prescription from the hospital, Covid-19 positive report and Aadhaar card details.
Remdesivir is supposed to be sold to hospitals only directly by authorised distributors.
But Chennai pharma dealers started selling it to patients' attenders and retail pharmacy outlets from the first week of April.
"This paved the way for unauthorised distributors, mostly from North Indian states, which manufacture the drug, to sell them in the black market," said S Selvakumaran, an authorised Remdesivir distributor from Tamil Nadu.
Twitterati, while compiling the list of possible locations from where the drug could be sourced, inadvertently started adding names of these black market dealers who sold it at a higher price.
A senior official from Tamil Nadu Drug Control Administration said they were yet to receive any such complaints from the public so far as Remdesivir was sold to dealers in Tamil Nadu only after confirming their licence details.
While police in nearby states of Andhra Pradesh and Telangana have arrested a dozen men this week for black market sales, not a single case has been registered by the Tamil Nadu police so far.


[ad_2]

Source link