[ad_1]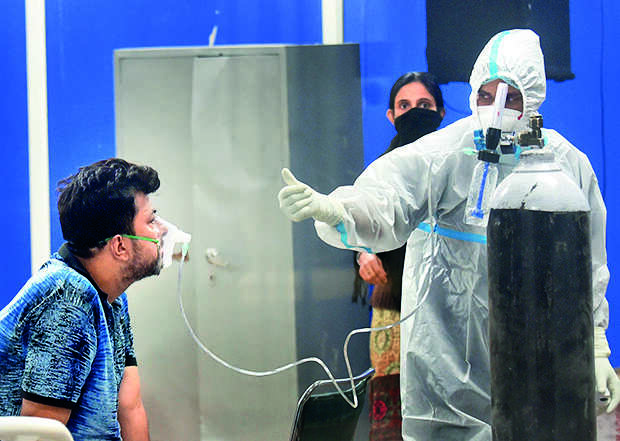 New Delhi: Delhi High Court on Monday directed city hospitals to follow the
Delhi government
's circular over not insisting on
Covid
positive test reports before admitting patients who show symptoms of the infection.
Chief Justice DN Patel and Justice Jasmeet Singh further directed the Delhi government to "widely publicise" its April 23 circular over the same.
The order came while disposing of a public interest litigation seeking directions to the government to order hospitals not to insist on Covid-19 positive reports to hospitalise patients who show symptoms of coronavirus.
The petitioner, Jaideep Ahuja, through his counsel Sachin Puri, said that the Uttar Pradesh government has passed such a direction on not insisting on RT- PCR positive test reports for admitting patients.
Advocate Puri said that like the Uttar Pradesh government, the Delhi government should also permit admission of patients showing Covid-19-related symptoms without any RT-PCR test report. Advocate Anuj Aggarwal, appearing for the Delhi government, argued that a direction to this effect had already been issued on April 23.
He further stated that such patients were to be accommodated in a designated area for "suspected" cases of Covid-19. Keeping in mind the existing circular, the bench stated that there was no reason to issue any further directions.
The Centre had stated that Covid tests were not being conducted in the national capital.
The Delhi government, meanwhile, said that its health department had issued a circular on April 23 directing hospitals in the city not to insist on Covid positive test reports to admit patients who were showing symptoms of the infection.
The court also directed the government to upgrade its infrastructure related to testing labs and testing centres in view of the prevailing Covid-19 situation in the national capital.
The PIL filed by advocates Praveen K Sharma and Dhananjay Grover was against the recent reduction in the number of RT-PCR tests being conducted and against the illegal rejection of hospitalisation on the pretext of non-possession of positive RT-PCR report. The petitioner also sought directions to the respondent to add more testing centres and upgrade the infrastructure for streamlined collection of the RT-PCR samples.
IIT scientists working on a mathematical model to predict the course of the pandemic have revised both the timing and value of peak cases, saying the peak for "active" infections may touch 38-48 lakh cases during May 14-18 while the peak for "new" infections may hit 4.4 lakh in the next few days.


[ad_2]

Source link