[ad_1]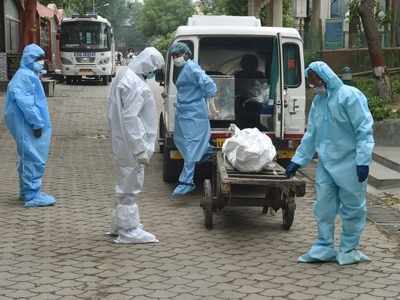 LUCKNOW: The
Covid-19
death toll
this month zoomed past the 500 mark in the city on Tuesday, with the deadly
second wave
claiming 39 more lives — second highest single-day spike in the 14 months of the pandemic.
This means that three patients died every two hours on Tuesday in various hospitals of the city. The highest death toll of the pandemic in a day is 43, recorded on April 24 this year.
Experts said that deaths in the second wave are higher because the number of infections are also high.
"Deaths lag behind cases by 7-10 days, which means that those who lost the battle today were infected at least a week ago. Similarly, if cases are declining today, the death rate will drop after 7-10 days," they added.
April has been the deadliest month of the pandemic so far with 505 Covid-19 casualties till date, accounting for 29% of the total 1,713 deaths since the outbreak in March last year. On an average, 18 deaths — three every four hours — took place daily in the 27 days of April thus far.
However, the number of new cases declined marginally with 4,437 people testing Covid positive in comparison to 4,566 on Monday. This comes as a ray of hope because it was the fourth day in continuation that daily cases dipped.
Another sign of encouragement was that the number of recoveries on Tuesday were 5,970, more than the new infections. It assumes importance because it was the sixth day in a row that the recoveries were more than cases. Further, the number of patients with active infection came down to 49,064 on Tuesday from 50,627 on Monday. However, the cause of concern was an increase in hospitalisation. Over 4,709 patients were in the hospitals, of whom nearly 2,300 were serious or critical.
Doctors said the slight improvement in new cases has been because now relatively more people have started wearing masks and staying at home than earlier, voluntary closure of markets by the traders and weekend curfew.
These steps, they said, have reduced mobility and overcrowding as witnessed earlier. Similar resolve is need for the next couple of weeks to flatten the curve, they said Overall, 1.1 lakh people got infected in April and 60,602 patients recovered from the disease with a daily average of 3,957 cases and 2,244 recoveries.


[ad_2]

Source link