[ad_1]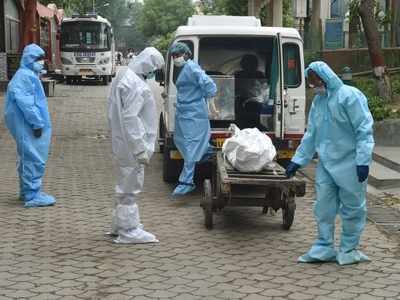 Sunday recorded 407
Covid-19 fatalities
, the second day in a row that the figure breached the 400-mark. Saturday had seen 412 people succumbing to the disease, the highest single-day toll till date in
Delhi
. Sunday, however, saw the
positivity rate
dip below 30% for the first time in two weeks.
Delhi recorded 20,394 new Covid-19 cases on Sunday, from 71,997 tests carried out in last 24 hours, out of which 54,487 were RT-PCR tests and 17,510 were rapid antigen tests, with a positivity rate of 28.33%.
The last time the figure was lower than this and below 30% was on April 19, when 23,686 fresh Covid-19 cases were reported from 90,696 tests, with a positivity rate of 26.12%. It was also the day when a lockdown was imposed in Delhi, which is still in place with the exponential rise in Covid-19 cases. The next day (April 20), Delhi recorded 28,395 Covid-19 cases with a positivity rate of 32.82% and the positivity rate remained above 30% after that, till Sunday.
With 24,444 people recovering from the disease in the past 24 hours, which is more than the number of new cases reported, the total number of active cases came down to 92,290 from the figure that stood at 96,747 on Saturday. However, the availability of oxygen and ICU beds remain scarce. Data shared by the state health department shows that 50,742 or nearly 55% of the patients are recuperating under home isolation.
Out of the total 21,483 Covid-19 hospital beds, 20,136 beds are occupied and 1,347 are vacant. Of the 5,525 beds in dedicated Covid care centres, 896 are occupied and of the 206 beds in dedicated Covid health centres, 122 are occupied. Out of the total 5,154 Covid-19 ICU beds, only 20 are vacant and 5,134 are occupied.
The 412 Covid-19 fatalities reported on Saturday was the highest number of deaths recorded in 24 hours in the city till date. Earlier, on April 29, Delhi had recorded 395 deaths due to the viral illness. The total number of deaths due to Covid-19 in the national capital has reached 16,966, which is the second-highest in the country after Maharashtra, where around 70,000 people have succumbed to the disease since the beginning of the pandemic. From April 1 to May 1, Delhi had recorded 6,262 deaths, averaging 202 fatalities daily. In March, the average death reported daily was around four.
While the number of tests being conducted in Delhi has come down in the last few weeks, the positivity rate remains high, even though it witnessed a slight dip on Sunday. In April second week, the city conducted over one lakh tests, of which nearly 70,000 tests were done using RT-PCR, which is considered the gold standard for testing. According to Delhi government, the imposition of lockdown is the primary reason the footfalls are low.
Delhi reported 36.2% positivity rate, the highest so far, on April 22 and it has been coming down slowly since then.


[ad_2]

Source link