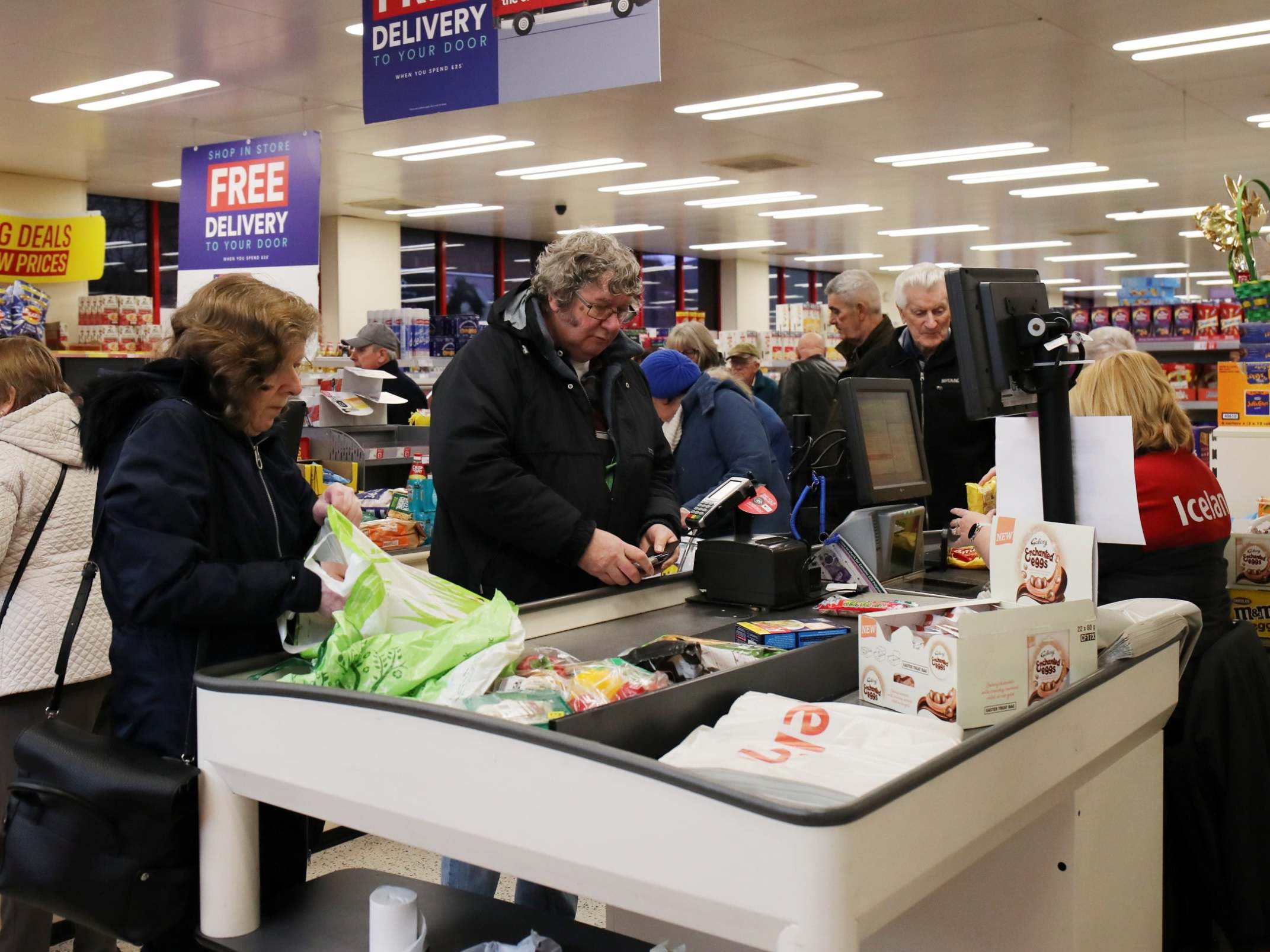 One of the biggest public concerns throughout the coronavirus outbreak has been whether essential food and household items will remain in good supply at supermarkets.
Despite supermarkets urging people to refrain from panic-buying and stockpiling, this hasn't stopped consumers from going against advice in order to buy items in bulk.
In order to ensure that there is enough produce to go around, supermarket chains including Sainsbury's, Iceland, Lidl and Tesco have been introducing measures at their stores, including offering a dedicated shopping hour to the elderly and rationing the sale of certain products.
Download the new Independent Premium app
Sharing the full story, not just the headlines
Here is how supermarkets are responding to the coronavirus outbreak:
New opening hours
Several supermarkets have declared that they will be altering their opening hours in light of the coronavirus pandemic.
When Aldi announced the change to its opening times, it said this measure had been taken so as to "provide additional rest for Aldi colleagues and to enable stores to be stocked at their best every day".
Here are the changed opening times for the biggest UK supermarkets:
Sainsbury's
In a letter sent to customers by the company's CEO, it said that from Monday 23 March, all its supermarkets would be open from 8am to 8pm, Monday to Saturday.
The opening times for Sainsbury's supermarkets on Sundays, for local stores and at petrol stations will remain the same.
Tesco
Tesco recently announced that the opening hours of its 24-hour stores had been changed from 6am to 10pm.
Aldi
From Friday 20 March, the opening times for Aldi supermarkets were changed to close slightly earlier, from 8am to 8pm.
Its opening hours on Sundays have remained the same, from 10am to 4pm and until 6pm in Scotland.
Asda
Asda's 24-hour stores are now being closed every day for six hours from 12am to 6am, so as to allow staff time to restock supplies.
Co-op
On Tuesday 24 March, the Co-op announced that the majority of its stores will now close at 8pm, to give staff time to re-stock and clean.
While Waitrose, Marks & Spencer, Morrisons, Iceland and Lidl have not made changes to their opening times, several of the supermarket chains have introduced dedicated shopping hours for the elderly, vulnerable customers, NHS and social care workers.
For some supermarkets, this involves opening early, while for others this involves setting aside the first hour of trading.
Dedicated hours for the elderly, vulnerable, NHS and social care workers
It was recently reported that an Iceland branch in Belfast was opening its doors exclusively to the elderly every morning, from 8am to 9am, so that they can do their shopping without having to worry about products being sold out before they arrive.
A Facebook statement about the shopping hour stated: "Could the wider public please respect this hour, and understand that this time is allocated for elderly people only. Iceland appeal to people's better nature when realising who needs priority."
It has since been announced that other Iceland stores are following suit, allowing the elderly and vulnerable people to shop for the first hour of trading Monday to Saturday.
The supermarket also recently announced exclusive store hours for NHS staff, which are held during the final hour of trading from Monday to Saturday.
Other supermarkets, including Lidl and Tesco in Ireland and Sainsbury's, have also introduced special shopping hours across the UK.
Over the weekend, it was announced that Sainsbury's had extended its dedicated shopping hour for the elderly and vulnerable customers to also include NHS and social care workers.
The next day, the supermarket said in an open letter that after receiving messages from many customers, it had decided to allocate specific shopping times for NHS and social care workers for half an hour before opening every day, from 7.30am to 8am Monday to Saturday.
The dedicated shopping hours for the elderly, disabled customers and carers are running from 8am to 9am on Mondays, Wednesdays and Fridays.
Marks & Spencer recently released a statement online announcing it is setting aside the first hour of the day once doors are open for the elderly and vulnerable customers on Mondays and Thursdays, in addition to NHS and emergency workers on Tuesdays and Fridays.
"Supporting our customers and communities during this difficult time is our number one priority," the firm said on Instagram.
"We want to make sure everyone has access to the items they need, so we are setting aside the first hour of trading on certain days for our older and vulnerable customers, and for our brilliant NHS and emergency workers."
Marks & Spencer concluded its message by stating: "We ask our other customers to respect this request, as it's the kindness and support we show each other that will get us through this."
Tesco recently stated that every Sunday, NHS staff can enjoy a dedicated shopping hour at its large stores.
Several NHS workers venturing to supermarkets during their dedicated shopping hours have received bouquets of flowers as a token of appreciation, a gesture that has left some individuals "in tears".
Online deliveries
On Monday 23 March, Sainsbury's announced that customers over the age of 70 and those with a disability would have priority access to online delivery slots.
The supermarket has since contacted 270,000 customers who have provided information that could indicate they are elderly or vulnerable in order to ensure they have priority for online deliveries.
Waitrose has said that while it is continuing to do online deliveries, its available slots "are filling up quicker than usual".
"Our online team is doing all they can to offer the maximum number of slots to customers, and this also includes options such as click and collect grocery orders from our shops," the firm said.
Ocado stated that it is releasing delivery slots "as soon as they become available".
"As delivery slots are bookable up to three weeks in advance, we suggest booking more or more slots ahead of time to avoid disappointment," the company added.
It was recently announced that Deliveroo had teamed up with Marks & Spencer and BP fuel stations to offer deliveries of basic essentials to households in self-isolation.
The deal will allow customers to order items including milk, bread, juices, pizzas and ready-meals.
120 Marks & Spencer franchises are involved and there will be no delivery fees.
Rationing of essential food and household items
Despite retailers assuring consumers that they do not need to worry about stock of food and household items running out, this hasn't prevented some from cleaning out supermarket shelves.
"Supermarkets are doing everything they can to ensure everybody has the food they need! Retailers have well rehearsed plans to get food into their stores," the British Retail Consortium tweeted on Sunday.
"If we are considerate when we shop and help each other out, there is enough for everyone!"
In order to make sure that there is indeed enough to go around, some supermarkets, including Sainsbury's, have started restricting the number of items people can buy in one go.
"I mentioned last week that we had put limits on a very small number of products. Following feedback from our customers and from our store colleagues, we have decided to put restrictions on a larger number of products," Mr Coupe said.
"From tomorrow, 18 March, customers will be able to buy a maximum of three of any grocery product and a maximum of two on the most popular products including toilet paper, soap and UHT milk."
Asda has announced that its customers will only be allowed to buy up to three items on all food, toiletries and cleaning products.
Restrictions have also been put in place at Aldi, where shoppers can now only buy four items of any product at a time.
On Thursday 19 March, Waitrose and John Lewis announced they would be limiting the sale of certain items.
Waitrose, which is part of John Lewis Partnership, stated that when purchasing certain products, customers would only be allowed to buy three items at a time, while only two packets of toilet paper can be bought in one go.
Urging the public not to stockpile
Retail giants, including Tesco, Sainsbury's and Asda, recently signed an open letter appealing to the public to stop panic-buying amid the coronavirus pandemic.
"We know that many of you are worried about the spread of coronavirus (Covid-19). We want to let you know that we are doing everything we can so that you and your families have the food and essentials you need," the letter from the British Retail Consortium said.
The letter said retailers are "working closely with the government and our suppliers to keep food moving quickly through the system and making more deliveries to our stories to ensure our shelves are stocked".
"We would ask everyone to be considerate in the way they shop," it stated.
"We understand your concerns but buying more than is needed can sometimes mean that others will be left without. There is enough for everyone if we all work together."
Supermarkets practising social distancing
Aldi has introduced several measures to ensure customers and staff carry out social distancing.
These include installing clear plastic screens and floor markers at checkouts at stores across the UK so as to "protect colleagues and customers in store".
The supermarket is also encouraging customers to avoid using cash where possible, requesting that they opt for contactless forms of payment, using credit cards, Apple Pay or Android Pay.
Aldi is also introducing notices in-store reminding customers to keep their distance from other individuals.
On Tuesday 24 March, Waitrose announced that it was also implementing measures to ensure that customers who come to the store are practising social distancing.
These measures include limiting the number of customers who can come into the store, placing stickers on the floor at checkouts and at Welcome desks so that customers maintain a sufficient distance from one another, having marshals check that the 2-metre rule is being followed and installing protective checkout screens and special visors for staff
The Co-op has brought about several new measures to ensure customers are keeping a sensible distance from each other and staff members, including placing markers on the floor throughout its 2,600 branches to define a one-metre distance throughout the stores and two-metre markers in customer queues.
The supermarket is also limiting the number of customers who can be in stores at any one time and reducing the number of tills that are open.
Sainsbury's has done the same, limiting the number of customers allowed in stores and at ATMs and asking everyone to remain at least two metres away from one another.